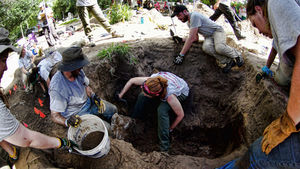 Anthropologists uncovered a series of mass graves filled with the human remains of immigrants stuffed into shopping and garbage bags in a county-owned section of a cemetery in South Texas. Now, a local politician is calling for an inquiry.
The group of anthropology researchers is made of professors and students from the University of Indianapolis and Baylor University, who are working on the Reuniting Families project. The multi-year project seeks to identify the bodies of the hundreds of undocumented immigrants who died (usually from exposure in the 100-degree-plus heat) while crossing the Texas-Mexico border over the last few years. They resumed work two weeks ago, exhuming 52 plots in a Brooks County-owned section of the Sacred Heart Burial Park in Falfurrias.
In those plots, they found the remains of multiple people instead of just one.
In one burial plot, bones of three bodies were inside one body bag. In another instance, there were at least five people in body bags and smaller plastic bags were piled on top of each other, Baylor University anthropologist Lori Baker said to the Corpus Christi Caller-Times. Skulls were found in biohazard bags - like the red plastic bags in receptacles at doctors' offices - placed between coffins.