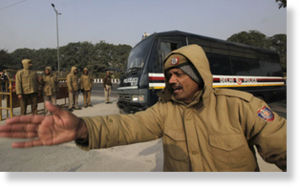 At about 2pm there was a ­sudden ­moment of ­relative quiet in ­courtroom 207. The angry ­exchanges stopped. No one moved ­except the two dozen policemen, in khaki coats, who shoved the lawyers, the journalists and the simply curious aside. "They are coming," a barrister muttered.
There was no need to ask who "they" were. There has been no need through the three weeks since the
rape
of a 23-year-old medical student in south Delhi, on 16 December. To say that this vast, seething city of 17 million has talked of no one else and nothing else would be an exaggeration.
But there was little sense that anyone was ready to move on. News channels continue to devote hours to issues that received minutes of airtime a month ago; front pages still carry every twist in the investigation; and conversations naturally turn to the woman whose ashes were scattered on the Ganges last week, and to what should be done to the six men who are accused of raping her repeatedly on a moving bus before dumping her on a roadside.
Five of the men - a sixth, a juvenile, is being held separately - had been brought from the high-security Tihar prison in the mid-morning. This was a pre-trial hearing at which they would be presented with the multiple charges against them: rape, abduction, banditry, murder and others. The case would be sent on to a higher court by the metropolitan magistrate Namita Aggarwal. If they are convicted a death penalty seems a certainty.
"It should be a straightforward thing," said SK Singh, a supreme court advocate at the hearing, who said he represented the family of the victim.
By noon the accused were yet to appear. They waited in a cell beneath six floors of land disputes, rent rows, robberies, frauds and traffic offences. In their absence Aggarwal presided over a 20-minute shouting match sparked by the offer of one advocate to defend them. "I know the whole country thinks they are guilty and the evidence is against them ... but their families have contacted me," he said.
Local lawyers, who voted to refuse to represent the alleged rapists, hurled themselves across the room, shouting abuse. "This is a very, very heinous crime and we are human beings living in society," explained Rajpal Kasana, of the Saket Bar Association. The court will have to appoint a lawyer for the men over the coming days.