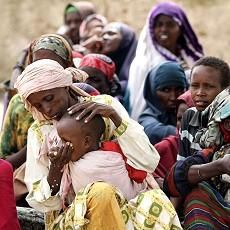 Most vulnerable women are on the outskirts of the camps
Women fleeing conflict and famine in Somalia are facing another threat to their lives, sexual assault. As they make the long journey from what was once their home to the world's largest refugee complex at Dadaab, Kenya, women have to contend with being attacked and raped by armed militants and bandits, often times repeatedly.
The violence does not stop once the women reach the camps. With the large influx of refugees, many women build shelters farther away from the center of the camps, making them more vulnerable to attacks.
However, the UN high commissioner for refugees, UNHCR says they have been working to increase security at the camps.