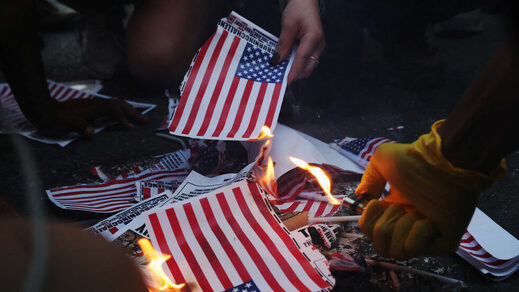 The English Department at Rutgers University said it would 'stand with' BLM by focusing on 'racism in the classroom,' evidenced by the emphasis on grammar.
Will colleges prove more destructive than the riots just witnessed?

Comment: Colleges have already proven themselves more destructive than the riots as it was there that the critical theories of institutional racism and white colonialist oppression were developed and disseminated to the masses of young, naive students who comprise a large portion of the current rioters. If it weren't for the large number of woke college professors indoctrinating their students with these abhorrent ideas, then the riots would quite possibly not have even taken place.


It appears that the fallout from the BLM and Antifa riots following the death of George Floyd at the hands of a white cop were not only the torched and looted city center of Minneapolis and Saint Paul. Today, the 'violence' continues to spread like wildfire from the manicured lawns of one of America's oldest colleges.
Last month, in an effort to demonstrate camaraderie with the BLM/Antifa movement, Rebecca Walkowitz, Chair of the English Department at Rutgers, sent a 3,000+ word
email
to her colleagues that addresses, among other things, "racism in the classroom."
Never mind that no proof is provided that such a thing even exists.
In addition to mentioning compulsory workshops for faculty and students "who do not live the experience of anti-black racism every day," as well as new hiring standards that give advantage to "people of color," the email touched upon a part of the English language that one would not normally associate with "systemic racism."