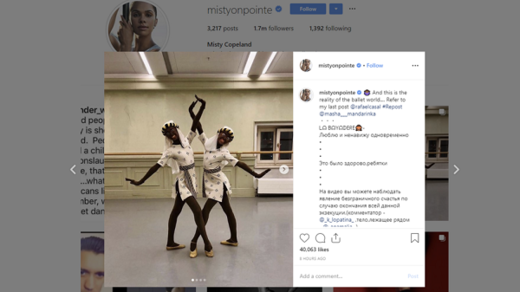 The US may be cannibalizing itself with social justice dogma, but some places remain untouched by the long arm of the woke. Not anymore, as a prominent ballerina took to hounding Russian children on the internet for 'racism.'
Ballerina Misty Copeland made history in 2015 by becoming the American Ballet Theater's first black principal dancer. She's since appeared in productions of
'Swan Lake,' 'Romeo and Juliet'
and
'The Nutcracker,'
among others. Lately, however, she's also found time to publicly shame Russian children for not measuring up to American standards of political correctness.
In an Instagram post on Sunday, Copeland called out a pair of teenage dancers from the Bolshoi Ballet Academy - one of whom is 14 years old - for appearing in blackface, apparently during a rehearsal of
'La Bayadère.'
Copeland's followers saw red, and several reported the dancers for racism. To help them, Copeland tagged one of the dancers in her post.
"No doubt they will be upset and embarrassed by the online backlash but it would not be undeserved," one wrote.