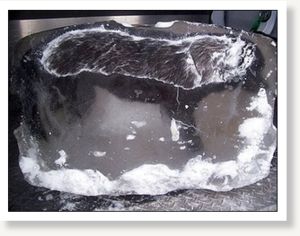 Animal cruelty officers are investigating a disturbing case involving a dead dog that was frozen into a block of ice and left in the yard of a Dawson Creek man.
The man discovered the dog Jan. 15, but told officers he had no idea why its frozen body was left on his property.
"I thought I'd seen everything, but when I opened that [file] up I was blown away. It's so disturbing. We want some answers," said Marcie Moriarty, general manager of the BC SPCA's cruelty investigations. "Anyone who would do something so sick - I'm concerned if they have other animals in their custody."
Moriarty said the case is such a mystery that investigators are asking for the public's help, hoping someone may have known the black dog or witnessed it being dropped off in the yard of the unidentified Dawson Creek man. She said the man does not have pets, did not know the dog and has no idea why the animal was left in his yard.
"The only salvation is we just found out the dog died before being placed in there. It had puncture wounds consistent with being in a dog fight and all of his intestines were missing," Moriarty said.