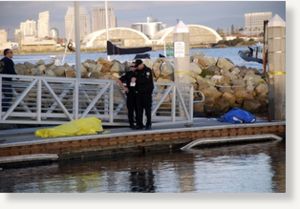 Ten people were thrown into the waters of San Diego Bay Sunday when their sailboat capsized, leaving two men drowned and eight people injured, authorities said.
The boat flipped over for reasons that remained unclear and then sank near Shelter Island shortly after 5 p.m., San Diego Fire-Rescue spokesman Maurice Luque said.
Harbor police pulled all 10 from the water and took them to a boat dock where some 60 firefighters and paramedics were waiting. Two men in their 50s or 60s were declared dead at the scene and the other eight were taken to local hospitals. Two children were released from the hospital after being treated briefly.
Luque said none of the injuries was life-threatening or critical.
Though just 10 people were reported to be aboard, divers searched the sunken wreckage for any additional victims.
"We are confident that everyone is accounted for," Luque said.
One woman was being treated in intensive care at UCSD Medical Center for hypothermia, said Marguerite Elicone, a spokeswoman for the Port of San Diego, which includes the Harbor Police.