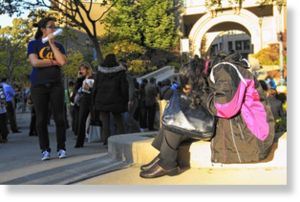 A man with a gun was shot by police Tuesday inside the business school at the University of California, Berkeley, after hundreds of students and anti-Wall Street activists descended on the campus for a day of protests.
The shooting occurred at the Haas School of Business on the east side of campus about a half-mile (half-kilometre) away from the protest site.
Ute Frey, a spokeswoman for the university, said officials did not yet know whether the suspect was part of the Occupy Cal movement.
University officials said a man carrying a gun was seen by a female staff member in an elevator at the business school after 2 p.m. The staff member called police at 2:17 p.m., saying she saw the man remove the gun from a backpack.
Police said they arrived at 2:19 p.m., and had to locate the suspect in the building. Officers found the suspect in a third-floor computer room where there were at least four students, university officials said.
The suspect raised the gun and was shot by an officer, according to the school. At the time, the four students were between the officer and the suspect, said UC Chancellor Robert Birgeneau at an afternoon news conference.