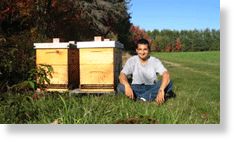 The lives of thousands of bees are in jeopardy because the lockout at Canada Post has them trapped in warehouses.
Twenty-thousand queen bees are shipped every year in Canada, with June being the busiest month.
The bees are used to populate honey-producing colonies. But since the lockout began Tuesday, thousands of queen bees have been stranded.
Honey producer Raphael Vacher of Alma, Que. ordered 100 queen bees from a breeder in the Eastern Townships before the lockout began.
Now his bees are stuck in a Canada Post sorting warehouse near Montreal.