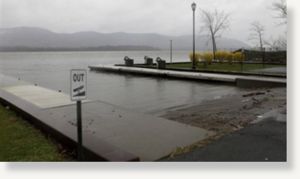 Police are investigating what led a New York mother of four to drive herself and her children into the cold and murky Hudson River, killing herself and three of her kids.
The woman's 10-year-old son managed to escape the submerged minivan and swim to shore after his mother drove into the river at around 8 p.m. Tuesday, officials said.
Authorities said during a press conference Wednesday that 25-year-old Lashanda Armstrong, of Newburgh, N.Y., had just been involved in a domestic dispute before she loaded her children into the vehicle and drove them into the river.
"We are talking about a tragedy in this city that I would say is probably second to none," Newburgh Mayor Nicholas Valentine said. "The whole scene surrounding what occurred in Newburgh last night will have a lasting effect on this city."
Officials said 10-year-old Lashaun Armstrong managed to open the minivan's power window, climb out and swim to shore. The boy was picked up by a passerby, authorities said, and was able to alert firefighters at a nearby fire station.