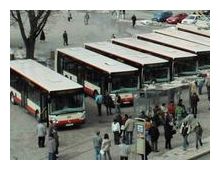 Prague - From
Madrid
to
Athens
, EU governments are currently seeing mounting opposition of some social sectors against
austerity reforms
.
On Monday 13 June, this protest wave will flood the Czech Republic, and above all its capital, with massive strike and blockades planned by the country's labor unions on the same day. The capital is expected to be totally paralyzed - it is likely that even the subway will not operate.

Comment: Tthe strike was to take place on Monday June 13. After the Prague municipal court ruled it illegal, arguing that the organizers had failed to announce the protest three working days in advance it was moved to Thursday June 16 .
Read more
:
Czechs protest austerity in largest strike in 20 years
Read more:
Czech Rep: Only EU state to increase deficit in 2011?
The strike will be probably the largest protest against the center-right government established approximately one year ago and the austerity reforms it plans. However, rather than by popular protests, the coalition is currently threatened above all by its own internal rupture, and it is increasingly uncertain whether it will be able to complete its full term.