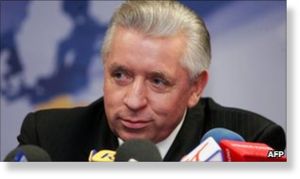 Polish populist politician Andrzej Lepper has died at the age of 57 in Warsaw, with police suspecting he killed himself.
The leader of the Self-Defence Party was found dead in a party office, police said.
His career in politics was latterly overshadowed by a long-running sexual assault case.
Mr Lepper served in government as deputy prime minister to Jaroslaw Kaczynski in a 2006-2007 coalition.
Police spokesman Mariusz Sokolowski told the Polish news agency Pap: "Police are at the scene ... but all indications are that the politician committed suicide."