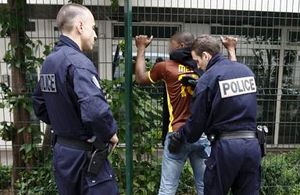 French police single out young black and Arab men for random street checks as part of a new policy to combat crime, a rights group said on Thursday, questioning the success of one of President Nicolas Sarkozy's main initiatives before elections in April.
Sarkozy, who made his reputation as a hardline interior minister, declared war on urban violence in 2010 after riots in the east city of Grenoble.
The government said last week crime had fallen in 2011 for the ninth straight year. But Interior Minister Claude Gueant has raised eyebrows with his right-wing stance on the issue since Sarkozy promoted him to his Cabinet a year ago.
Human Rights Watch (HRW) said in a report that French law allowed the police to carry out the checks without any evidence of a crime being committed or being officially registered.