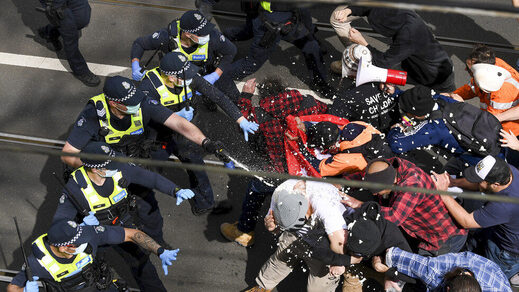 Rattled by a wave of violent anti-lockdown protests, Australia's second-largest city has hit a grim pandemic milestone, reportedly becoming the city that has lived the longest under lockdown as infections surge.
Currently in its sixth lockdown since the beginning of the Covid-19 pandemic, Melbourne has now officially become the lockdown capital - that's according to local media, which
reported
that the city has spent a total of 235 days under restrictions, surpassing the benchmark set by Argentina's Buenos Aires, which was shut down for 234 days last year.
The mood has been far from celebratory in the streets of the locked-down city, however, as it faces a wave of protests against the record-breaking restrictions. Since Monday, demonstrators have been taking to Melbourne streets daily to vent their frustration at the government's handling of the pandemic, including at its latest move to impose a vaccine mandate on construction workers.