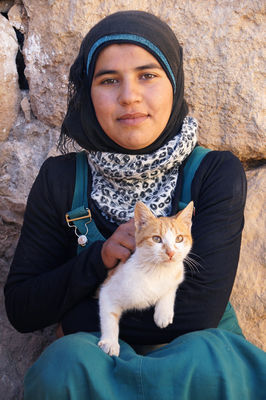 As reported here, during home demolitions in the cave-dweller village of Mufakarah, two young women who resisted nonviolently were arrested and charged with "assaulting soldiers" under the Israeli Occupation's draconian martial law. The older of the two, Sausan Hamamdeh,
reached a plea bargain in December resulting in a fine.
When reporting on that development, we were fairly confident that her 17-year-old cousin Amal Hamamdeh would see her charges dropped. After all, she just tried to hand Sausan a water bottle to wash her pepper-sprayed eyes, and when soldiers interfered some water were spilled on them. We were wrong.
The first court session in Amal's trial took place Sunday, Jabuary 15th 2012, at the military court and prison base of Ofer, in the West Bank north of Jerusalem. Charges pressed by the military prosecution against Amal include throwing water and spitting at a soldier, and swearing at the security forces. The defense, by Amal's attorney Neri Ramati (a Jewish Israeli lawyer, partner at the Gabi Lasky law firm), decided to admit pouring water on the soldier, and reject the allegations of spitting and swearing.
On the day of the arrest, while in transit to the Kiryat Arba police station, Amal was sexually harassed by one of the soldiers sitting with her in the army jeep. At the police station, the interrogators took advantage of her inexperience and lack of access to counsel (martial law is *very* convenient for interrogators and prosecutors), and managed to make her confess to throwing water at a soldier during the demolition. The next court session in Amal's trial has been scheduled for February 5th, 2012.