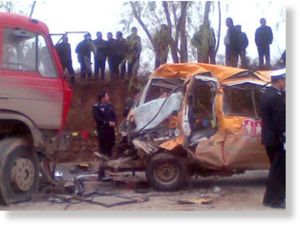 At least 17 kindergarten kids and two adults were killed Wednesday when a nine-seater school minibus crammed with 64 people crashed on its way to class in western China, officials and state media said.
The children were aged 5 and 6, an emergency official said. News of the crash ignited public anger across China, highlighting an underfunded education system that especially shortchanges students in remote areas.
The bus collided head-on with a truck loaded with coal in China's Gansu province, leaving the orange school vehicle crumpled and twisted. Authorities blamed overloading for the accident, the official Xinhua News Agency said.
Five people died at the scene, four children and the bus driver, said the official, surnamed Fan, the director of the emergency office of Gansu provincial work safety bureau. He said the other 14 had died either in hospital or on their way to hospital. The other adult victim was a kindergarten teacher, he said.