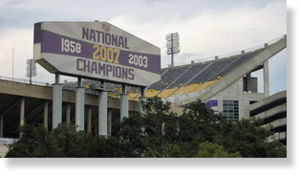 Officials evacuated Louisiana State University on Monday after yet another bomb threat forced students to leave a campus.
A caller phoned in a vague threat to 911 that was received by the East Baton Rouge Parish emergency center at 10:32 a.m., university spokesperson Kristine Calongne told the
Los Angeles Times
. University officials blasted out an evacuation notice on social media platforms a little over an hour later, at 11:37 a.m.
By Monday evening, law enforcement officials were allowing students to return to dorms and some other facilities while continuing to inspect the rest of the campus. Classes were canceled for the day.
"We have a huge campus, so it takes a little time," Calongne said.
Unless police find a bomb,
the threat looks to be yet another hoax - the fourth to strike an American university in the past week.
The trend is a tough one for school officials who must protect students even from potentially spurious threats since the terrorist attacks of Sept. 11, 2001, and a gunma's rampage at Virginia Tech in 2007.