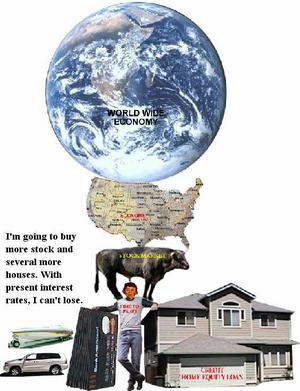 As a graduate student and construction worker in San Diego from 2003-2005, I was afforded an up-close view of the inflation of the last real estate bubble. It was a truly exciting time to work in the building industry in Southern California because there was so much money sloshing around. I literally couldn't even walk into Home Depot without being accosted by hordes of greedy homeowners and slippery contractors offering to pay cash to anyone willing to do construction work.
Everyone I knew was making piles of easy money buying and flipping homes, and I often heard that I was just plain stupid to not be buying and flipping some of my own. I was content to just be able to finance graduate school without debt, however. I decided to move back to Colorado to finish graduate school at almost precisely the moment that my friends started making
really
big money in real estate. They all thought that I was insanely stupid to leave.
A year later,
I wrote an article
predicting the collapse of the real estate bubble. A year after that, my friends in Southern California started losing their jobs, and a year after that many of my old friends started losing big money. My decision to avoid real estate investment looked a lot less stupid at that point.
Only six years have passed since the largest housing bubble in world history imploded, and I am once again receiving investment advice from my friends involving real estate. Instead of buying and flipping homes, they are now promising me piles of easy money if I purchase "investment homes" to rent out. My friends are not quite as exuberant as Californians were in 2006, but the pitch of their excitement is definitely rising.
I am not sold on the idea at all, however. In fact,
I think my friends who are piling into "investment properties" right now are setting themselves up for losses on a scale only surpassed by the losses suffered in the last real estate crash. Real estate is still extremely dangerous, and only people with a solid financial cushion and who are willing to take gargantuan risk should be moving into it.