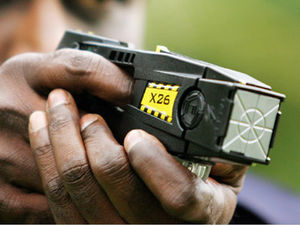 Taser International is being forced to defend itself in court this week after a man filed a lawsuit against the electroshock gun company, claiming he went into cardiac arrest as a result of being shot in the chest by a Taser.
­Colin Fahy, who was 17 years old at the time of the incident, was shot in the chest with a Taser by police responding to a domestic disturbance complaint at his home in St. Louis. Police Officer Karen Menendez claims she used the Taser on Fahy, who was drunk and high, after he lunged at her and one other officer, according to a report by the
St. Louis Post-Dispatch
.
Menendez shot the gun twice, delivering one 25-second shock and one 5-second shot. Fahy went into cardiac arrest soon afterwards, which the plaintiff claims was a direct result of the stuns from the Taser.
"On December 7, 2007, St. Louis police officers used the X26 Taser on Fahy, causing him to go intro ventricular fibrillation and cardiac arrest,"
read court documents signed by United States District Judge Catherine Perry in 2010.
After falling to the kitchen floor, the teenager was handcuffed by the officers. At this point he was blue in the face and unresponsive. Fahy was subsequently hospitalized, suffered cardiac arrest for 30 minutes and was on life support for weeks. The young man now suffers from permanent brain damage and struggles with short-term and working memory.