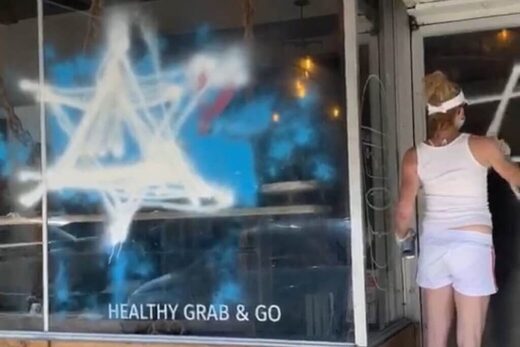 Recently an individual with the Jewish Defense League (JDL) was filmed defacing the storefront of the
Foodbenders
sandwich shop in Toronto in broad daylight. Nothing has happened to the perpetrator but the restaurant has faced negative consequences.
On Sunday JDL thugs held a rally in front of Foodbenders, which has "I Love Gaza" painted on its window. During their hate fest they
scrubbed
a Palestinian Lives Matter marking from the sidewalk and, similar to what Jewish supremacist settlers do to Palestinian homes in the occupied West Bank, someone painted the symbol on the Israeli flag onto the restaurant window. Alongside painting Stars of David on her storefront, Foodbenders' s owner Kimberly Hawkins has faced a bevy of online abuse. Hawkins has been called a "
dirty Palestinian whore
" and told "Palestine sucks I will burn your business down" and "I hope your family gets trapped inside the restaurant when it burns."