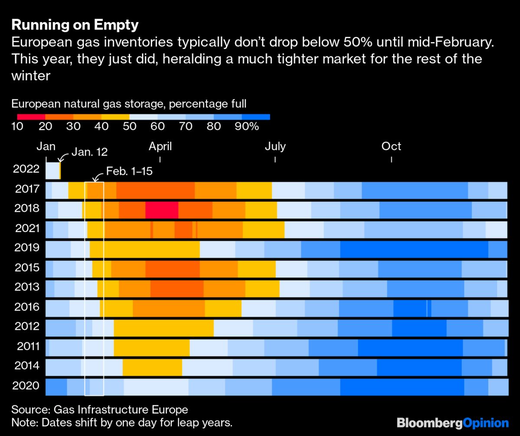 On Christmas eve, Gazprom, the Russian state-owned natural gas giant, tweeted a rather unfestive message: Gas inventories in Europe were depleting quickly. Since then, Gazprom has been reminding the world of the trend every few days. "It should be noted that gas reserves in Europe's UGS [underground gas storages] are currently at their lowest for the season in the long history of observation," it tweeted again earlier this week.
Gazprom is right. On Thursday,
Gas Infrastructure Europe, an industry association, announced that European gas inventories had dropped below the key 50% mark of total capacity, down to 49.33% as of Jan. 12.
It's the earliest the half-empty mark has ever been reached, beating the previous record by seven days.
Typically, Europe's gas inventories don't fall to half until about early-to-mid February.
During some mild winters, the inventories don't sink below midpoint until early March.
The biggest ally of Europe in the gas crisis has so far been the weather. Only a month ago, many feared the 50% level would be breached on New Year's day.
Unseasonal temperatures cut consumption
and helped to avoid that scenario.
The arrival of liquefied natural gas (LNG) cargos also alleviated the crunch. Some big energy consumers — like fertilizer companies, glass manufacturers and aluminum and zinc smelters — also shut down production.

Comment: One wonders just how low reserves would be if industry hadn't been shut down, and what the knock on effects of shutting them down will have on critical industries, trade and agriculture? It's not as though Europe has the luxury of losing that production and revenue.