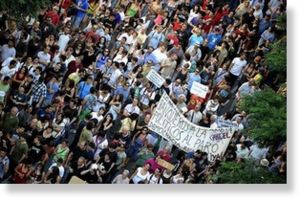 Tens of thousands of protesters flooded the streets of Madrid Sunday blaming bankers and politicians for causing a financial crisis that forced the country to adopt painful spending cuts.
Demonstrators of all ages linked to a protest movement called the "indignants" assembled early Sunday in several neighbourhoods on the outskirts of Madrid.
They then formed six columns and converged on the city centre, gathering near Spain's parliament where they met various forms of police resistance, including 12 vans blocking several major roads.
Protests over the economic crisis and soaring unemployment began in Madrid on May 15 and fanned out nationwide as word spread by Twitter and Facebook among demonstrators.