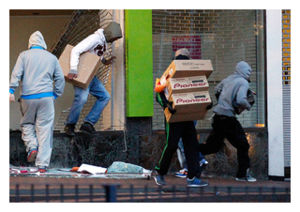 When asked why he targeted a certain store during the London riots, one teenaged looter
told Sky News:
"They didn't reply to me emailing my CV, or going up there so this was payback man, payback."
His "payback" contributed to estimated losses by business owners of £17.4 million in stolen merchandise stock and £43.5 million on repairs,and shopping comparison site
Kelkoo predicts
a collective loss of £392 million in one week.
Stolen during the looting sprees, which quickly fanned out from London to other cities, were iPads, BlackBerrys, XBoxes, Playstations, clothes, athletic shoes, even diapers -- but thieves have largely
left bookstores untouched.
In a statement,
eBay announced
that it will "cooperate fully with the investigating authorities to identify and remove any listings which are linked to criminal activity."
Here's a look at some before-and-after shots of the damage done to small businesses (and one Sony regional distribution center) over the past few days -- as well as a wonderful example of a very British stiff upper lip in the face of adversity: