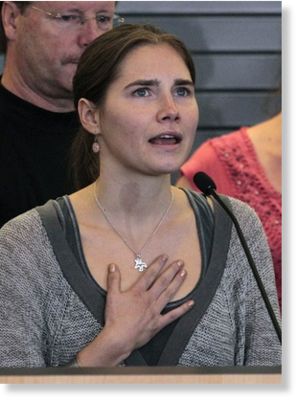 An Italian judge who was part of the jury that acquitted Amanda Knox said Wednesday that she and her ex-boyfriend were cleared of murder based on the evidence, but the "real truth" could be different.
Judge Claudio Pratillo Hellmann said in a state TV interview that Knox and Italian Raffaele Sollecito may know what happened in the 2007 slaying of Meredith Kercher, Knox's British roommate.
In his first public comments since the appeals court verdict Monday, the judge stressed the ruling was the fruit of the "the truth that was created in the trial."
"But the real truth could be different," Pratillo Hellmann added. "They could also be responsible, but the proof isn't there."
Pratillo Hellmann, the presiding judge, was one of eight jurors in the case.
Knox and Sollecito have vehemently denied wrongdoing in Kercher's murder. Knox flew home to Seattle on Tuesday, her first full day out of jail since she was arrested a few days after the murder. Sollecito was resting at his hometown in southern Italy, his lawyers said.
Asked who knew the truth about the slaying, Pratillo Hellmann referred to a third defendant, Rudy Guede, who was convicted of Kercher's murder in a separate trial and is serving a 16-year sentence in Italy.