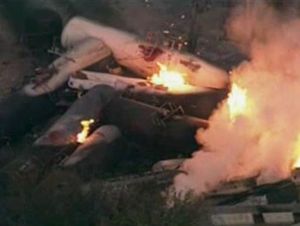 Tiskilwa - A freight train loaded with ethanol crashed and exploded Friday, sending up bright orange flames and plumes of smoke that could be seen miles away and forcing the evacuation of a small town in northern Illinois.
Capt. Steve Haywood of the Ottawa Fire Department said the train's tanker cars were shipping ethanol for Decatur-based corn processor Archer Daniels Midland, and possibly other materials and chemicals, when it crashed and derailed. At least six tanker cars burned, he said.
The evacuation was strictly precautionary and there was no immediate danger, said Les Grant, a spokesman for Bureau County Emergency Management. The fire has been contained and no injuries have been reported, Grant said.
"Pretty much things are under control right now. ... The initial threat has been addressed," he said.
Authorities said evacuees from Tiskilwa, a village of about 800 people about 100 miles west of Chicago, were taken to a nearby high school.
Witnesses reported hearing explosions, and the glow from the fire could be seen from miles away.