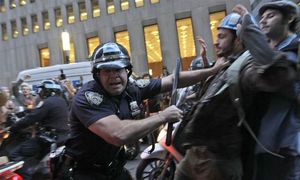 Clashes broke out between bottle-throwing demonstrators and police on horses and scooters as Occupy Wall Street protesters marched on the Stock Exchange on Friday, NBC News reported.
At least 10 people were arrested amid what was initially described as a celebratory march, which began when it was revealed the owners of Zuccotti Park - where the protesters had set up camp - had ditched cleanup plans that some claimed were a pretext to evict them.
NBC News reported that police used the scooters to try to force protesters off of the street at several locations on Wall Street and Broadway.
In some cases, police rode scooters directly at people who stopped traffic and refused to move away.
Demonstrators threw bottles and one threw a garbage can at police, according to reporters on the scene.
WNBC reported that at least 10 people had been arrested as police tried to stop about 500 people, with brooms raised in the air, from marching on Wall Street.