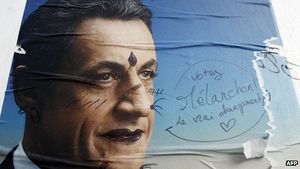 If President Nicolas Sarkozy fails to win a second term, as many polls are predicting ahead of Sunday's first round of voting, perhaps the biggest factor will be the personal loathing that he elicits in so many of the French. What's behind it?
From the moment he took office in 2007,
no French president in modern times has been the object of such blatant dislike.
It is an animosity quite distinct from opposition to his actual policies.
All leaders expect hostility for the things they do.
Few get it in such measure for the things they are.
"There is an irrational hatred of Nicolas Sarkozy among much of the public, and it is playing a major part in this election," says Jean-Sebastien Ferjou who edits the news website Atlantico.
"I say 'irrational' because that is what it is. Polls show that if you ask people about this or that policy of Sarkozy's - but don't mention his name - they will tend to support it.