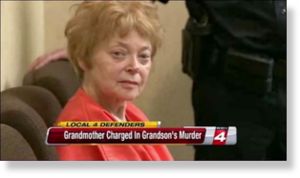 A Michigan grandmother has pleaded not guilty after she was charged with murdering her 17-year-old grandson by shooting him the chest eight times.
Bloomfield Township Police Detective Brad Boulet testified on Monday that Jonathan Hoffman called 911 and begged them to help, saying he had been shot in the chest by 74-year-old Sandra Layne and was going to die. Hoffman screamed while on the phone with dispatchers and said he had been shot again,
according to the Detroit Free Press
.
When officers arrived on the scene, the grandmother came to the door holding .40-caliber Glock handgun in her right hand.
"While walking toward the officers, Ms. Layne exclaimed that she had just murdered her grandson," Boulet recalled.
It was not immediately clear what had triggered the shooting, but Assistant Prosecutor Jason Pernick suggested that Layne may not be competent to stand trial. Bloomfield Police Lt. Tim Diamond said that she had not yet talked to investigators.
In late March,
police were called
to the Layne's home over a dispute with her grandson. Hoffman was seen in the street screaming but no charges were filed at the time.