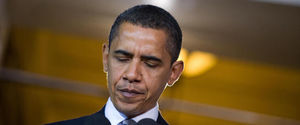 Washington - Less than two months after
signing tax cuts
for the wealthiest Americans into law, President Barack Obama proposed a spending plan to Congress that cuts funding to programs that
assist
the working poor,
help
the needy heat their homes, and
expand access
to graduate-level education, undermining the kind of community-based organizations that helped Obama launch his political career in Chicago.
Obama's new budget puts forward a plan to achieve $1.1 trillion in deficit reductions over the next decade, according to an administration official who spoke to the Associated Press on condition of anonymity in advance of the formal release of the budget.
Those reductions -- averaging just over $100 billion each year -- are achieved mainly by squeezing social programs.
A deal
struck to extend the Bush tax cuts for just two years, meanwhile,
increased the deficit by $858 billion dollars
. More than $500 billion of that bargain constituted tax cuts, with billions more funding business tax breaks and a reduction in the estate tax. Roughly $56 billion went to
reauthorize
emergency unemployment benefits.
The president's budget was expected to mostly target "non-defense discretionary spending," which makes up less than one-quarter of the overall budget, making balancing the budget with such cuts mathematically impossible.