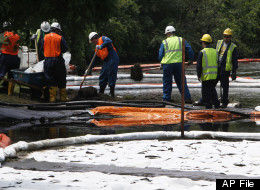 * Some 1,200 barrels spill from pipeline in Wisconsin
* Spill is two years after another major Enbridge spill
* Canadian company already battling safety concerns on its line
Washington - The U.S. pipeline safety agency launched an investigation on Saturday into an oil spill in Wisconsin on Enbridge Inc's network that forced the partial shutdown of a main artery carrying light sweet Canadian crude to Chicago-area refineries.
Enbridge's 318,000 barrel per day Line 14 pipeline, part of the Lakehead system, was shut after an estimated 1,200 barrels of oil were leaked. This happened almost two years to the day after another major spill in a different section of the line, in Michigan.
Enbridge Energy Partners said on Friday there was not yet a time frame for when flows would resume, and the cause of the spill had not yet been determined.