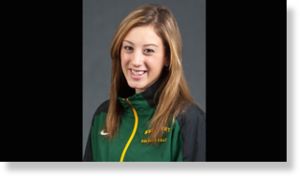 A New York college student has been charged with second-degree murder in the beating death of his 18-year-old girlfriend, who was found brutally assaulted in her dorm room, police said.
Alexandra Kogut, of New Hartford, N.Y., was found dead in her room at The College at Brockport by university police at about 2:45 a.m. Saturday. The cause of death was blunt force trauma, Monroe County Sheriff's Office Cpl. John Helfer told FoxNews.com.
Kogut's boyfriend, Clayton Whittemore, 21, was later arrested at a rest stop roughly 100 miles away and confessed to killing Kogut, a freshman communications major whose relatives remembered her as a "bright, beautiful" young woman excited to begin her college life.
Whittemore, also of New Hartford, had apparently visited Kogut during the weekend. The student at Utica college helped his high school hockey team with consecutive state titles in 2009 and 2010, WKTV reports.
Whittemore, who pleaded not guilty to second-degree murder during his arraignment Saturday, has nevertheless confessed to killing Kogut, Helfer said.