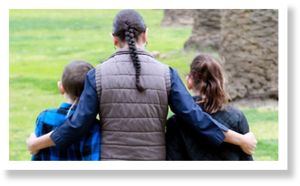 Robbed of her beloved kids and branded a "dangerous" mum, a NSW woman has spoken of her joy of being reunited with her daughter after nine years of separation.
For 19-years, the mother struggled to keep her family together as childcare authorities were hellbent on tearing them apart.
But her courage and conviction has finally won. The baby "stolen" from her 23 days after she entered the world in 2002 is safely by her side.
The youngster has spent her life in foster care after childcare authorities believed the mum suffered from the discredited condition known as Munchausen syndrome by proxy in 1993.
"I've been waiting 10 years to bring my baby home," said the elated mum, who has requested not to be identified for the childrens' sake. She was labelled with the condition, in which mothers harm and even kill their children to gain attention, after her second-born son failed to thrive. Her next two children were removed as well.