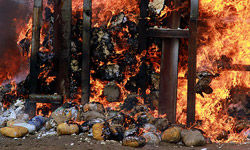 Iranian Law Enforcement Police forces seized nearly 1.5 tons of opium in the town of Manoujan in Iran's Southeastern province of Kerman yesterday, the provincial police commander announced on Wednesday.
Kerman's Police Chief General Hossein Chenarian said his forces imposed control on provincial transit routes after a series of intelligence measures showed that drug-traffickers planned to transfer a large cargo to Iran's Southern province of Hormozgan via Kerman.
He said the police forces stopped a van after armed clashes with drug-traffickers at a checkpoint near Manoujan and seized 1,432kg of opium from traffickers.
Iran lies on a major drug route between Afghanistan and Europe as well as the Persian Gulf states. Since the 1979 Islamic Revolution, the Iranian police have lost more than 3720 of their personnel in the country's combat against narcotics.
Owing to its rigid efforts,
Iran makes 89 percent of the world's total opium seizures
and has turned into the leading country in [the anti-]drug campaign.
The anti-drug squads of the Iranian Law Enforcement Police have intensified their countrywide campaign against drug-trafficking through staging long-term systematic operations in recent months.
The Iranian anti-narcotic police have always staged periodic, but short-term, operations against drug traffickers and dealers, but the latest reports - which among others indicate an improved and systematic dissemination of information - reveal that the world's most forefront and dedicated anti-narcotic force (as UN drug-campaign assessments put it) has embarked on a long-term countrywide plan to crack down on the drug trade since the beginning of the current Iranian year.