Society's Child
Vodpod
Sat, 14 May 2011 08:06 UTC
---
vimeo
Sat, 14 May 2011 07:54 UTC
---
Lamaur Stancil
TCPalm.com
Fri, 13 May 2011 22:29 UTC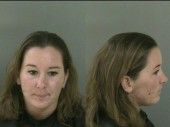 Florida - A mother and daughter were charged with animal cruelty after they recorded two dogs attacking and killing a pig in their backyard and posted the video on Facebook, Sheriff Deryl Loar said Thursday.
"Get him! Bite him!" shouted Janice Kay Ramirez, 55, as she recorded the five-minute attack by the cur mix dogs, according to the clip released by the Indian River County Sheriff's Office.
She and Ashley Ann Ramirez, 21, both of the 2300 block of 84th Court, Vero Beach, were investigated after someone anonymously sent a copy of the video to authorities in March, Loar said. Deputies had to subpoena Facebook to get the address for the home in the video. Ashley Ramirez was on the video coaxing the dogs to attack.
"It's one of the worst animal cruelty cases we've seen," Loar said about the attack on the pig, which managed to squeal throughout the ordeal despite its snout being closed with duct tape.
---
Rich Jones
WOKV.com
Fri, 13 May 2011 06:21 UTC
Jacksonville, Florida - Two young girls are left alone in the woods to live in a tent with no food or water, just the family dog.

The parents are now charged with child neglect and those girls, just three and four years-old, are being cared for by the DCF.

Cops in Union County say the girls were found wandering alone in the woods, while the parents were getting drug treatment at a methadone clinic.
---
China Arnold's case in '05 of killing her baby in a microwave oven goes to the penalty phase.

Dayton, Ohio - As if she'd been struck, China Arnold shut her eyes tight and let her head drift backward as she heard the jury foreperson announce that she was guilty of aggravated murder in the killing of her 28-day-old daughter in a microwave oven.

Then, as Montgomery County Common Pleas Judge Mary Wiseman explained what would happen next for the jury, Arnold put her head down and began to weep - silently at first, but then her soft sobs shortly became audible.

This is Arnold's third trial, which will continue Monday with the penalty phase, when the jury will be asked to recommend whether she should be put to death.
---
Jim Forsyth and Corrie MacLaggan
MSNBC
Fri, 13 May 2011 21:20 UTC
The Texas House of Representatives late on Thursday approved a bill that would make invasive pat-downs at Texas airports a crime, after a former Miss USA said she felt "molested" at the Dallas/Fort Worth airport last month.
Transportation Security Administration agents could be charged with a misdemeanor crime, face a $4,000 fine and one year in jail under the measure.
The proposal would classify any airport inspection that "touches the anus, sexual organ, buttocks, or breast of another person including through the clothing, or touches the other person in a manner that would be offensive to a reasonable person" as an offense of sexual harassment under official oppression
.
---

The Indian government must uphold its human rights obligations by responding immediately to its farmer suicide crisis, said the Center for Human Rights and Global Justice (CHRGJ) in a new report released today. The report,
Every Thirty Minutes: Farmer Suicides, Human Rights, and the Agrarian Crisis in India
, looks critically at India's farmer suicide epidemic -
which has been claimed the lives of an estimated 250,000 farmers since 1995
- and proposes steps that the government should take toward upholding the human rights of this vulnerable population.
"On average, one farmer commits suicide every 30 minutes in India," said CHRGJ Faculty Director and report co-author Smita Narula. "It's simply unacceptable to ignore a tragedy of such epic proportions and go on with business as usual. The Indian government's limited interventions have failed to adequately assess or address this deepening crisis."
Over the past two decades, economic reforms - which included the removal of agricultural subsidies and the opening of Indian agriculture to an increasingly volatile global market - have increased costs, while reducing yields and profits for many farmers, creating widespread financial distress. As a result, smallholder farmers are often trapped in a cycle of insurmountable debt, leading many to take their lives.
---
Karen Keller, Jennifer Weiss
The Grio
Fri, 13 May 2011 15:40 UTC
Fourteen-year-old Rose Manette Sully lives a twisted Cinderella tale. She works from dawn to dusk as a maid for her master. She sleeps on the floor of a tent.

The lanky teen is far from an isolated case in Haiti. She's just one among tens of thousands of child servants in Haiti who endure what the United Nations calls a modern form of slavery.


Underaged domestic help is everywhere in Port-au-Prince's tent cities, which formed after last year's devastating earthquake and remain because of the glacial pace of reconstruction. The January 2010 quake caused many more of these young indentured servants to be put to work. And now, their lives are harder than ever before, experts said.
---
San Francisco authorities are investigating a mother who said on a national television program that she gives her 8-year-old daughter Botox injections.
Trent Rhorer with the city's Human Services Agency tells KGO-TV that officials need to sit down and talk with Kerry Campbell and her daughter, Britney.
Rhorer says it was unusual for a mother to inject a child with the anti-wrinkle shot.
Campbell appeared with her daughter Thursday on ABC television. She enrolls Britney in beauty pageants and says she got the idea to give her daughter Botox from other pageant mothers.
Rhorer says his office received numerous calls from people concerned about Britney's well-being after the TV appearance.
Botox injections can be painful and are not recommended for anyone under the age of 18.
Source: The Canadian Press
---
MSNBC
Fri, 13 May 2011 09:30 UTC
Activist said Assad adviser told him of 'definitive presidential orders' not to shoot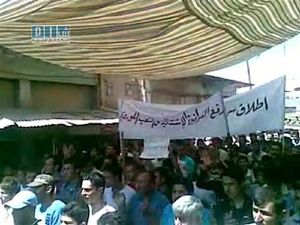 Beirut - Syrian security forces opened fire on thousands of protesters Friday, killing at least one person with a gunshot to the head as soldiers tried to blunt demonstrations by occupying mosques and blocking public squares, activists said.
The death in the central city of Homs marks the latest bloodshed in what has become a weekly rhythm during the two-month uprising, with protesters taking to the streets every Friday, only to be met with bullets, tear gas and batons.
Leading human rights activist Mazen Darwish said Friday's victim was shot in the head. A second activist in Homs put the death toll at two.
"At first they opened fire in the air but the people continued their way, and then they shot directly into the crowd," the second activist said, asking that his name not be used for fear of reprisals from the government.
He said security forces dressed in black and pro-regime gunmen known as "shabiha" were doing the shooting.
---