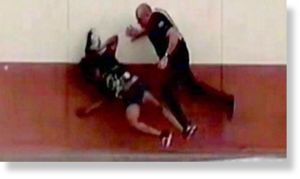 Phoenix Police are
investigating
the
arrest
of a 15-year-old girl who was seen on tape being slammed to the ground by the arresting officer.
Officer Patrick Larrison has been placed on administrative leave while police carry out both an internal and criminal investigation into the arrest.
A YouTube video captured the Jan. 25 arrest on camera, but police didn't become aware of the video until this Tuesday. Someone in the police department saw the video and reported it.