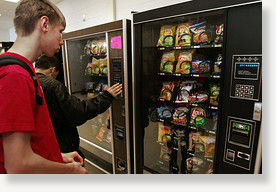 Tough economic times have spurred a rash of vending-machine thefts, prompting operators to fight back with sales-tracking devices and automated text-message alerts.
Theft rings have sprung up in Georgia, South Carolina, Florida, Mississippi and New York, among other states. More schools, hospitals and other big vending customers are complaining of such break-ins, especially with outdoor vending machines, according to loss consultants and machine operators.
While no one closely tracks the exact number of such thefts, these experts report a proliferation of websites and YouTube videos with instructions on how to break into the machines.
"My sense is that theft is on the rise as there are so many people in desperate times," said Mark Manney, chief executive of Loss Prevention Results Inc., a Wake Forest, N.C., vending-theft consultant.
The industry already is struggling. U.S. sales fell 10% in 2009 to $19.85 billion, the latest data available, from $22.05 billion the year before, according to Automatic Merchandiser, a trade magazine. With profit margins as thin as 1%, losses from theft have an impact.
Police rarely get involved, operators say, because each theft seldom amounts to much money. Sometimes operators call the police but they usually arrive too late.
Others like Jodi Glimpse are cracking down on their own. "I'm starting to feel like my own personal detective service," said Ms. Glimpse, owner of Camelback Vending Services LLC, which operates hundreds of vending machines in the Phoenix area.