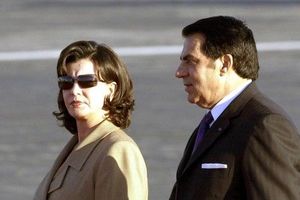 Imed Trabelsi, nephew of the powerful Tunisia's former first lady Leila Ben Ali, died on Sunday night in a military hospital in the capital city of Tunis, AFP reported.
In May, former Tunisian president appointed Trabelsi as mayor of the commune of La Goulette north of Tunis.
His appointment was criticized by the opposition since he had gained a bad reputation for corrupt practices.
Trabelsi is the first confirmed victim in the former president's family, known for their corruption.
In 2007, France ordered his arrest after the theft of a swish yacht belonging to Lazard Bank executive Bruno Roger, who is close to President Nicolas Sarkozy and former President Jacques Chirac. His country refused to extradite him.
In the past weeks, there have been massive street protests across Tunisia against what has been described as the theft of Tunisian wealth and lack of opportunities for the average citizen.