On the Move: Power to the People Coming in Waves of Justice Seeking Humanity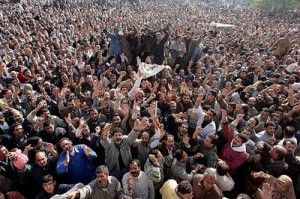 There is much talk about who and what is behind the popular revolts in the Arab world and I find such talk as interesting as anyone. But more than talk I am interested in action. Indeed that is why tears of joy streamed down my face as I watched the Egyptian people cleansing themselves of the shame brought upon them by Mubarak and his fellow thieves and traitors. Clearly however, the job is far from complete.
The Egyptian and Tunisian revolutions are not actually Egyptian and Tunisian revolutions as much as they are part of a Global Revolution. For no matter how much effort is exerted by the powers that be to divide the masses, we are all connected. And within the Western nations lie the very same justifications for revolution. The truth is we are hard pressed to find a government that honours its people; the real question is to what degree does a government disrespect and violate it's people? And does it confine it's crimes to it's own population? Or does it export these crimes as well? I am obliged to mention that in this latter category the world champion of global oppression is of course, my birth nation, the United States of America.
And they have junior partners in the global tyranny business, and Egypt has been, and remains at this moment, one of them. Ever since the so-called peace treaty between Egypt and Israel, Egypt has become a key partner in America's greatest export, terror. For more than 30 years Mubarak was little more than a pimp and a prostitute, ordering the people of Egypt to bend over while the American imperialist machine penetrated the Egyptian people as a rapist does his victim.