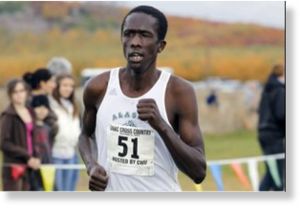 A top college runner from Kenya who spent two days lost in an Alaska snowstorm earlier this month had to have both of his feet amputated due to frostbite, the University of Alaska, Anchorage said on Monday.
Marko Cheseto, a two-time NCAA All-American runner, disappeared on November 6 after leaving the university campus during a heavy storm. He walked into a campus hotel more than 48 hours later severely hypothermic and suffering from frostbite.
Both of the 28-year-old star athlete's feet later had to be amputated because of severe frostbite, the university said.
Cheseto, in his first public statement since he was found, thanked the university, city and volunteers who searched for him during his "troubled times".
"As some may know, I've been going through a lot of personal issues," the runner said in a statement released through the university.