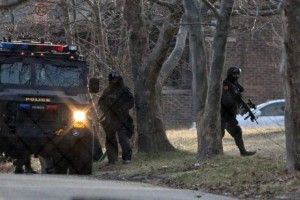 According to the
Detroit News
, a 56-year-old woman faces multiple felony charges and is being held on $500,000 bond after a 10-hour standoff with police, claiming she was protecting her 13-year-old daughter from unnecessary medication. The story which led to this incident, as reported in the
Detroit News
and
The Voice of Detroit,
is quite disturbing.
Maryanne Godboldo's daughter was born with a defective foot that required amputation of her leg below the knee, which led to Maryanne becoming a stay-at-home mother after her birth. Maryanne and her sister Penny now run a dance school in Detroit. Penny Godboldo reported in the
Detroit News
her niece's confidence grew, and despite her handicap, she swam, sang, danced and played the piano. However, as she approached middle school age, she apparently wanted to start attending school, and therefore had to "catch up" on required immunizations.
As the
Detroit News
reports:
"We believe she had an adverse reaction to her immunizations," Penny Godboldo said.

"She began acting out of character, being irritated, having facial grimaces that have been associated with immunizations."

Evans said Maryanne Godboldo sought help for her daughter from The Children's Center, an organization that helps families with at-risk children, where a medical and mental health treatment plan was developed. Godboldo told relatives the medications ordered by the doctor worsened symptoms, including behavioral problems.

"It is an undiagnosed condition, but the doctor had given her psychotropic drugs that caused a bad reaction, made things worse," said the girl's father, Mubuarak Hakim. "Maryanne's decision to wean her from that was making a difference, making her better, helping her to be a happy kid again."