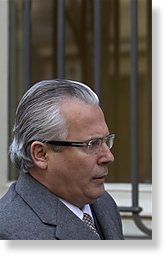 The superstar Spanish judge who won global fame for aggressively taking on international human rights cases was convicted Thursday of overstepping his jurisdiction in a domestic corruption probe and barred from the bench for 11 years, marking a spectacular fall from grace for one of the nation's most prominent citizens.
Baltasar Garzon was unanimously convicted by a seven-judge panel of the Supreme Court. Because he is 56, the punishment could end his Spanish judicial career. Hours after the verdict, hundreds of Garzon supporters braved freezing weather in Madrid's central Sol plaza shouting "Shame! Shame!" in protest.
It was just one of three cases pending against Garzon, who is still awaiting a verdict in trial on the same charge - knowingly overstepping the bounds of his jurisdiction - for launching a probe in 2008 of right-wing atrocities committed during and after the Spanish civil war of 1936-1939 even though the crimes were covered by a 1977 amnesty.
In Thursday's verdict, the court ruled that Garzon acted arbitrarily in ordering jailhouse wiretaps of detainees talking to their lawyers, the court said, adding that his actions "these days are only found in totalitarian regimes."
Ironically, Garzon is best known for indicting a totalitarian ruler, former Chilean dictator Augusto Pinochet, in 1998, and trying to put him on trial in Madrid for crimes against humanity. He also indicted Osama bin Laden in 2003 over the Sept. 11 attacks.