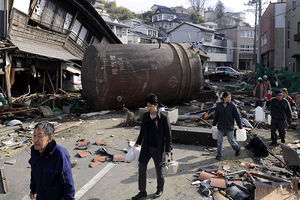 The absence of looting in Japan has taken many western observers by surprise.
In the wake of Hurricane Katrina, New Orleans experienced looting on a scale that astonished even American cynics. After last year's earthquake, the looting in Chile was serious enough to require military intervention.
There was looting in Haiti after its earthquake last year and in England during the 2007 floods.
So far, though, there is no looting reported from Japan.
Is it really that surprising? The politeness, honesty and orderly behavior of the Japanese are widely admired. A Brazilian friend in the jewelry business, under the influence of severe jet-lag, left an unlocked briefcase containing thousands of dollars in cash and hundreds of thousands of dollars in gem stones on a Tokyo commuter train.
His host talked him out of cutting his wrists and escorted him to the next station served by the train, where the briefcase and its contents were waiting for him at the lost-and-found counter.
If stories like that are credible in Japan and unthinkable in New York, Paris or London, the question is, "why?"