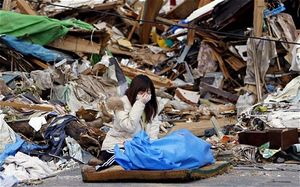 Doctors fear that thousands of survivors of the devastating Japanese earthquake and tsunami could now fall victim to disease and epidemics.
Children and the elderly living in the stricken zone are most at risk from outbreaks of flu and other ailments, they warned.
The emergency services are struggling to obtain medicines and basic supplies for the thousands of displaced people whose homes have been destroyed. The situation is being aggravated by cold temperatures.
Captain Kazuhiro Fujino, of the Maritime Self-Defence Force, said: "There is no medicine - nothing. My biggest fear is a flu epidemic, as there would be little we could do to stop it. It would take many more lives."
The warning came as abnormal levels of radiation were found in milk and spinach as far as 65 miles from the stricken Fukushima nuclear power plant.