Within the next 48 hours a crew is expected to enter the Soudan Underground Laboratory for the first time since a fire broke out last Thursday at the mine that houses it. The facility, which is managed by the University of Minnesota, is home to a number of high-profile physics experiments, including the MINOS neutrino detector and the detector of the Cryogenic Dark Matter Search (CDMS) experiment. The lab lies more than 700 m below ground where the rocks above shield the experiments from unwanted cosmic rays and other disturbances.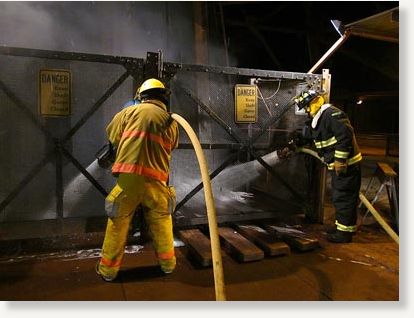 According to the Minnesota Department of Natural Resources (DNR), the fire was detected in the mine's main lift shaft around 9 p.m. local time on Thursday (17 March) when nobody was in the mine. By Friday the DNR had established that the fire was blazing inside the shaft between levels 23 and 25 - just two levels above the physics laboratory, which is located 60 m below on the mine's lowest level.
There were also fears that the lab could suffer flood damage after electrical systems automatically shut down, deactivating pumps that were designed to keep groundwater from entering the mine.
After fire-fighting efforts over the weekend, in which thousands of gallons of foam and water were sprayed into the mine, the Minnesota Interagency Fire Center reported on Sunday that the fire was 99% extinguished. Fire officials will only declare the blaze officially "out" once its source has been located and any smouldering ashes or embers have been extinguished.