Tribal elders ordered a 20-year-old woman to be raped in public by up to 12 men for an 'unauthorised' relationship, police say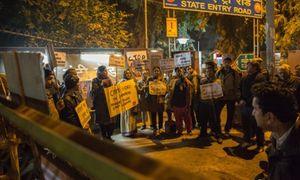 A 20-year-old woman has been raped in public by as many as 12 men on the orders of tribal elders in a village in eastern India, according to local police.
The attack, in Birbhum district about 120 miles from Kolkata, was a punishment for an "unauthorised" relationship with a man from another village and the woman's subsequent failure to pay a 50,000 rupee (£490) fine, local media reports said.
"According to the woman, the [village head] summoned her and her [lover] on Monday and detained them through the day and night. After her family said they could not pay the fine, the [head] allegedly ordered the mass rape on Tuesday," police superintendant C Sudhakar
told The Hindustan Times newspaper
.
Eleven men have been arrested so far, including the village head. The victim remains in hospital. She has told local reporters she lost count of her attackers, who appear to have included several of her neighbours.
India has been hit by a wave of sexual violence - particularly gang rapes - in recent years. Last week a
51-year-old tourist in Delhi was raped by at least five men
while walking back to her hotel. Several other similar attacks on foreigners had hit headlines over previous months.