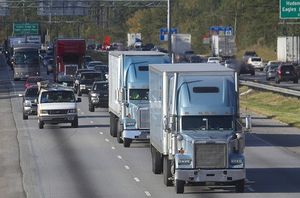 A trucker protest aimed at clogging the Capital Beltway around Washington to protest government "corruption" was not shaping up to be quite the commuter nightmare organizers had threatened.
As of Friday morning, dozens of tractor-trailers were said to be on the road as part of the protest convoy.
Virginia state police say they stopped four tractor-trailer drivers on the Beltway, pulling them over after they began driving side-by side across all four northbound lanes of the Beltway in Fairfax County.
Their actions slowed traffic to about 15 mph. Officers warned the drivers not to impede traffic and did not write any tickets.
Police say a convoy of about 30 trucks began traveling north on Interstate 95 from Doswell, Va., on Friday morning. The truckers are circling the Beltway.