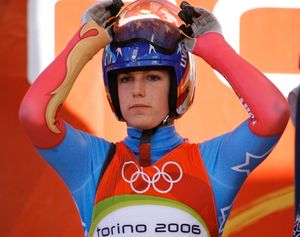 As a luge competitor at the 2006 Winter Games, I saw the dehumanization and corporate domination behind the Olympic ideal.
As a former Olympic athlete, I can tell you from experience that the Olympic Games have much more in common with
The Hunger Games
than anyone would want to admit.
I connect with the inhumanity of
The Hunger Games
because I've been there, as a luge competitor at the 2006 Winter Olympics in Turin, Italy. No, I didn't get sucked into the depths of an artificial lake, like the character played by Jennifer Lawrence. But I did get sucked into the rafters of an artificially manufactured tube of glare ice, only to come crashing down in the second run of my Olympic moment.
The grandeur of the opening ceremonies of
The Hunger Games
is designed to mask the cruelty of the competition itself. The Olympic opening ceremonies serve a similar purpose. Like the kids representing the districts of Panem, each nation's athletes are trotted around a massive arena like prize ponies, shrouded in the patriotic glory of their particular flag. The carefully orchestrated pageantry is misleading, telling us that the Olympics are a celebration of the human capacity to achieve, to overcome obstacles, and that the world's best athletes represent something bigger than themselves.
But make no mistake: for the global elite, the Olympics are an investment - and one with a rapidly growing price tag. At the London Games, the cost of the opening ceremonies alone was a whopping $42.3 million. This year, Russia will shell out more than $51 billion for the two-week event, making these Games more expensive than all previous Winter Olympics combined.
In
The Hunger Games
, Jennifer Lawrence is the sacrificial lamb of District 12. As one of the prize ponies of the US team, I served a similar purpose for the Turin Games. Groomed from the tender age of 11, I spent my childhood pursuing Olympic glory, which epitomizes the American dream of merit-based success.