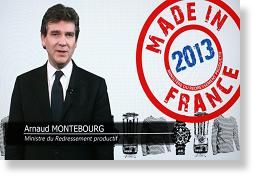 The French government is lobbying its citizens to opt for domestic products over imports, but a new report said that doing so could leave French consumers 300 euros ($398) a month poorer.
According to a report by French thinktank CEPII, which specializes in international economic research, choosing "Made in France" products over imported equivalents could lose French households between 1,270 euros ($1,685) and 3,770 euros ($5,010) each year.
The report came after Arnaud Montebourg, the government minister for Industrial Renewal, launched a "Made in France" campaign last year,dressed in a quintessentially French Breton top and clutching a French-branded blender.