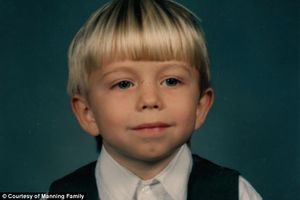 He was a 'mess of a child' who was tormented for being gay, kicked out of home at 18 by his father and once threatened to stab his step mother with a knife.
His own mother drank too much, he could not hold down a job and once literally crawled up a wall because he felt his family were ignoring him.
Perhaps it was no surprise then, that Bradley Manning was angry at the world - angry enough to hit back at any figure of authority that was within his grasp.
He has now been convicted of leaking classified information but given the troubled life he led Manning was always a time bomb waiting to go off.
His family left him scarred, his school days left him feeling like a loner - meaning that when he enlisted he was deeply disillusioned with life already.