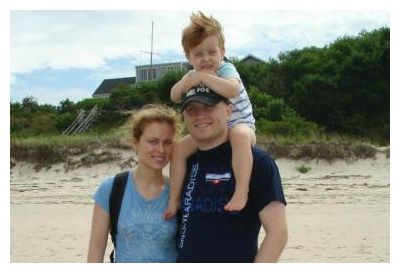 The Brooklyn dad who threw his
3-year-old son off a Midtown high rise
and then leapt to his death was on his first unsupervised visit with the boy amid a a vicious divorce battle with his wife, NYPD Commissioner Raymond Kelly said.
Dmitriy Kanarikov, 35, and his wife Svetlana Karanikov, 32, had split up in August after four years of marriage, and were locked in a rancorous battle over custody of their son, Kirill, Kelly said. Dmitriy had been getting supervised visits with the boy but on Sunday he was allowed to take the boy from the for a brief solo visit for a few hours, Kelly said.
"They separated in August of this year, where the woman moved to New Jersey and obtained an order of protection against the husband. Now, the husband was granted supervised visiting rights, where the father was only able to see the child in some sort of institutional setting. Yesterday was the first day in which that was not the case," Kelly told reporters Monday.
The father, who worked for the financial firm TIAA-CREF, picked up the boy at 10 a.m. and took him into 124 W. 60th St. just before noon on Sunday, Kelly said.