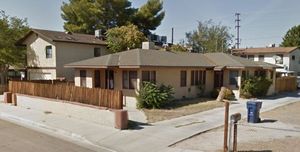 A boy, 13, is being credited with saving his 4-year-old sister from being kidnapped, authorities say.
Lancaster sheriff's deputies say the boy took swift action when a man entered their fenced yard in Lancaster on Saturday and grabbed hold of his sister. The man made it about 10 feet before dropping the girl, deputies said, thanks to her brother.
"He definitely acted on his own instincts," said Deputy Miguel Ruiz, calling the boy's actions courageous and heroic.
The suspect was identified as Earl Williams, 61, of Los Angeles. Williams,
who had been seen pacing around the children's home in the 300 block of West Kildare Street, entered their yard about 11:55 a.m., authorities said. He asked the girl's name, then reached down and grabbed her
, said Lt. Slade Carrizosa of the Los Angeles County sheriff's station in Lancaster.