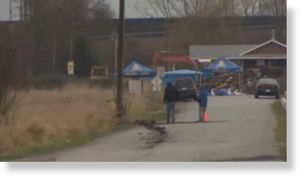 Canada, British Columbia - Police have identified two bodies found Wednesday on a remote stretch of Colebrook Road in Surrey, B.C., the same spot where two other bodies were found earlier this year.
The bodies of Brett Sheldon Lietz, 54, and Nicole Madelynn Brochu, 40, were discovered around 2 a.m. by Surrey RCMP officers conducting a patrol of the area.
While Lietz was not known to police, Brochu had a criminal record dating from 1989 to 2003.
Sgt. Jennifer Pound of the integrated homicide investigation team released the information in a statement Thursday.
"We do know the two victims were known to each other, as they were living together as roommates," she said.
While police have yet to determine a motive for the homicides, Pound said the cause of death appears to be gunshot wounds.
Police say it is likely the shooting occurred on Colebrook Road where the bodies were found.
Autopsies will be conducted in the next two days.
Surrey's Mayor Diane Watts attended the scene and said people have been calling her, concerned about the bodies being discovered there on what seems like a regular basis.
"We were looking at a lot of different options in terms of lighting down there, looking at putting cameras and of course the RCMP increased patrols because we knew there were some issues with that area," she said.