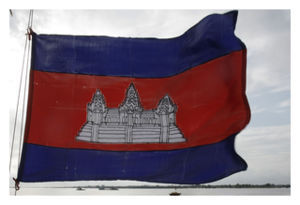 At least 23 workers were hurt in Cambodia when police used stun batons to end a protest over pay at a factory that makes clothing for sportswear company Nike, a worker and a trade union representative said.
Police with riot gear were deployed on Monday to move about 3,000 workers, mostly female, who had blocked a road outside their factory owned by Sabrina (Cambodia) Garment Manufacturing in Kompong Speu province, west of the capital, Phnom Penh.
A Nike spokeswoman in the United States told Reuters by e-mail that the company was "concerned" about the allegations and was investigating.
Nike requires contract manufacturers to respect employees' rights to freedom of association, the spokeswoman added.
Sun Vanny, president of the Free Trade Union (FTU) at Sabrina, told Reuters news agency the injured had included a woman who was two months pregnant and who had lost her child after military police pushed her to the ground.